1. Cast iron casing, durable, the shell is made of high-strength steel tool casting, and the manufacturing process is excellent. The installation dimensions and road grades conform to IEC standards.
2. the motor is efficient, energy-saving, low noise, small vibration, long life, easy maintenance, large motor torque, stable and reliable operation, good starting performance.
3. the motor is used in a wide range, widely used in machine tools, fans, pumps, compressors and transportation, agriculture, industry and other mechanical rotating equipment.
Y series three-phase asynchronous motor is designed and developed with new technology. The motor is fully enclosed, external fan cooling mode and squirrel cage structure. The utility model has the advantages of novel design, beautiful appearance, low noise, high efficiency, high torque, good starting performance, compact structure, convenient use and maintenance, and the like. The motor adopts Class F insulation and evaluates the cutting design according to the international insulation structure, which greatly improves the reliability of the overall safety of the motor.
Product Parameters
Frame number: 80-355
Power range: 0.75-315KW
Rated frequency: 50/60HZ
Voltage: 380V (can also be made into special voltage, such as 220V, 400V, 415V, 660V, 1140V, etc.)
Motor protection rating: IP54, IP55
Cooling method: IC411,
Continuous working system: S1:,
Motor wiring method: the power is 3KW or less for the Y connection method, and the 4KW or higher specification is the △ connection method.
It can be operated continuously in an environment where the ambient temperature is not higher than 40 °C. It can be made into a special motor for reducer, a special motor for water pump, a double-shaft extension motor, and a special installation motor according to user requirements. The product is used in various fields of the national economy, such as machine tools, pumps, fans, compressors, and can also be used in transportation, mixing, printing, agricultural machinery, food and other places that do not contain flammable, explosive or corrosive gases.
Feature of Product
(1)The outer contour of the Y series three-phase asynchronous motor frame is square and round, the heat sink is vertical and horizontally parallel, all adopt cast iron structure. In addition, H63~112 also has an aluminum alloy die-cast structure.
(2) Y series three-phase asynchronous motor adopts shallow end cover structure, which increases the number and size of internal reinforcing ribs, all adopt cast iron structure, and H63~112 also has aluminum alloy die-casting structure. For the convenience of users to use and overhaul, H180 and above have added a non-stop oiling device.
(3). The junction box protection class is IP55. In order to reduce the weight of the motor, the H63~280 junction box is die-casted with aluminum alloy (iron castings are also available), and the iron castings are used for H315~355. There is a special grounding device in the box. The mounting position of the thermal protection device is considered for the H160 and above. The power inlet hole adopts the double hole inlet and has two sealing structures: one is the sealing cover and the other is the sealing cover. Kind of lock seal. The junction box is usually located at the top of the base and can be routed on all sides. In addition, the junction box of the H80~355 cast iron base can also be located on the side of the base.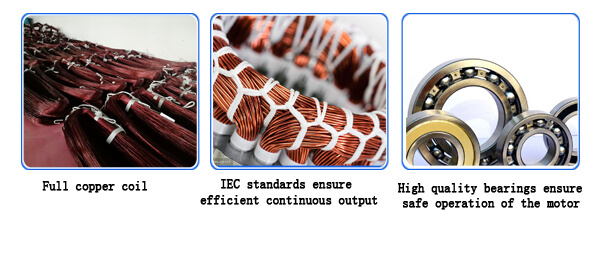 Product Use
The motor products manufactured and sold by our company are used in many industries, such as electric power, mining, steel metallurgy, petrochemical, water conservancy, transportation, building materials and many other industries. The equipment for the motor is pump, machine tool, fan, mill, crusher, rolling mill, compressor and many other industrial equipment.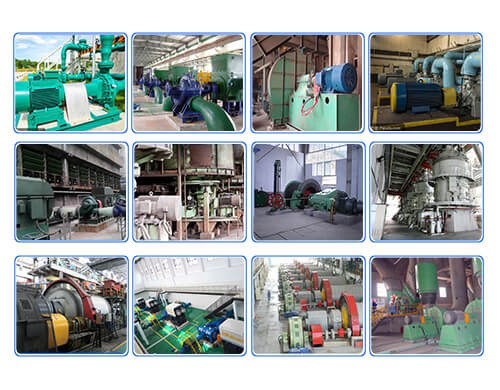 Main Process Flow of the Motor
Motor stator: casing processing → punching press → iron core seating → coil making → weaving → dipping paint drying
Electronic rotor: blank shaft processing → iron core press installation → iron core cast aluminum → rotor string shaft → weave → dipping paint drying → dynamic balance
Motor assembly: stator rotor assembly → machine test → motor appearance coloring → packaging storage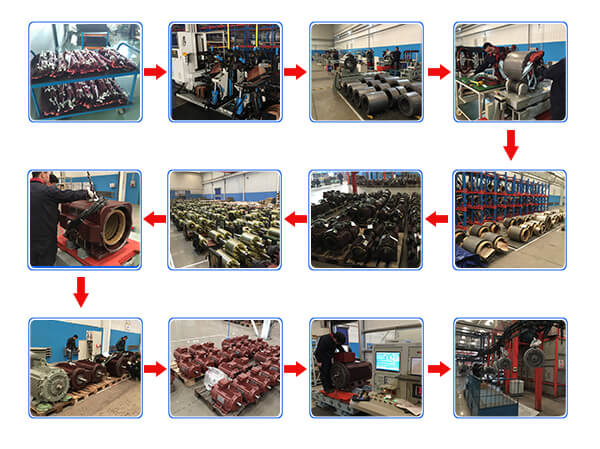 Why Choose Us (our service advantage)
1. Professional motor manufacturing service provider;
2. Sound product quality management and certification system;
3. Have a professional sales and technical service team;
4. The motor has perfect process and strong mechanical processing capability;
5. High standard product technical service system;
6, good faith and mutual benefit, good credit guarantee.